Smartwatches have been considered the piece of jewellery today, eventually, these are the essential tool of communication and shows an expression of Taste. As we know, Android has capitalized most of the audience so the conversion of the smartwatch industry towards Android is a tricky move. Fossil is one of the leading industry manufacturing smartwatches that you need at your own price.

Fossil Q Marshal Gen 2 with stainless steel is a pure reflection of their art and beauty with smart features. Though everything in this watch is not perfect, as a smartwatch user, you can adjust – if Fossil reshapes the look perfectly, especially its color combination.
Fossil Q Marshal Gen 2 Review:
What is the Fossil Q Marshal Gen 2?
Fossil's dedication to giving smartwatches industry is little push is pretty phenomenal. It's integrated Android wearable is considered the trusted brands. Ultimately Fossil is considered one of the top listed companies of all times.
Despite several smartwatches, Fossil Q Marshal has several limitations which restrict this watch to some extent. A smaller design, more feminine look, poor front screen, and others are the certain flaws which were not expected at all. As per user experience, it somehow manages to fulfill their desires, not all.
Most people are talking about the design but eventually, the design is copied version of some old classic analog watch which means dirt and a waste of your money.
Since most of the female buyers love to purchase Fossil, you would see a feminine look in Fossil Q Marshal as well, the however the company claimed to promulgate it as a men's watch.
Coming up with an average battery, however, the company claims to provide 24 hours battery life, well it also depends upon the number of apps you use and how frequently you use it. Do you want to know more about it, just read the detail before going to buy this?
Before going further, you need to read about how exactly Fossil Q Marshal works and what is the best way to utilize it effectively.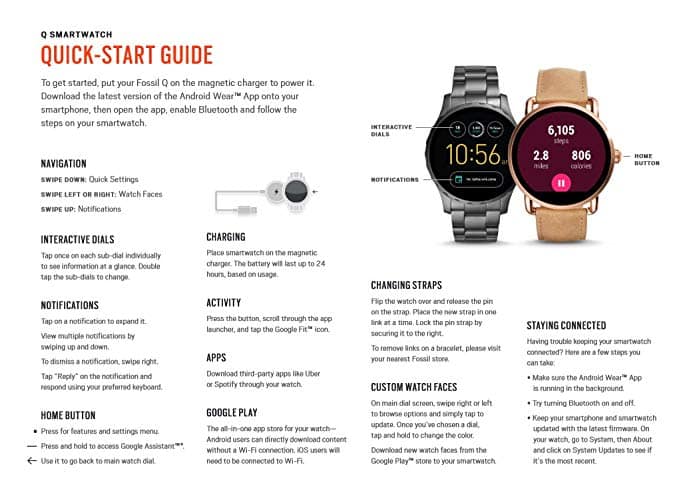 The design looks pretty nice with stainless steel, but, it is not the best option for a small wrist. Q Marshal has 45-millimeters case that's 0.55 inches thick, feels nice even after some drawbacks. Users have a penchant for smartwatches due to batter market reputation and elegant credibility of making your fun even better.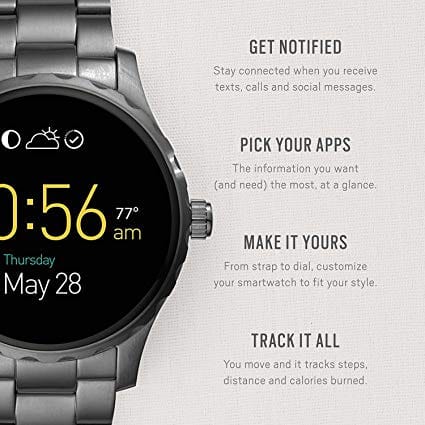 Never underwhelm Fossil Q Marshal Gen 2 while comparing with others as it contains certain hidden features that can win you over. If you are no comfortable with one design, you can choose old traditional grey, steel, and silver color combinations depending upon your own taste.
Fossil Q Marshal has 340 x 290 screen resolution with underwhelming pixels, well, don't worry it has a grainy quality. It has a monochrome display with a lower-power version of your watch-face, reflects better to give real look illusion.
Sensors of poor quality damage the attractive design of this smartwatch, when you take it out of your pocket, its always-on display, poor brightness combination make a clumsy look of this smartwatch.
Fossil provides with a warranty of 24 hours battery life with a limitation of usage as well, User experience tells us that it has an average battery life as mentioned above which is the biggest disadvantage of this Fossil Q Marshal Gen 2, honestly speaking, this is not what Fossil users were expecting.
Qualcomm Snapdragon 2100 processor makes it snappy, this is a plus point where buyers would opt to buy it. Apps work fine and open with speed and swiping between screen feels better with no judder or any shutter. Plus this, 4 GB of storage capacity is enough for you.
All in all, it is a good watch to buy but it has enormous limitations as well, you can, however, buy Fossil Q Marshal Gen 2 which is I think is one of the best smartwatches with endless possible features, you won't feel regret when you will wear it.