Best Fitness Trackers For Runners in 2023
Health and Fitness are very important, everyone knows this, however staying fit is not always easy, especially for those with very busy schedules. Having fitness trackers can help to motivate you. One reason is that you can see your progress as you work out. Another one is that you get to see how active you are as the day goes by.
This kind of ingrains it into your mind to give more time and attention to your workout. Fitness trackers are slim wrist wearable which helps you to get fitter and keep track of your fitness, by reminding you and then by also motivating you, and making it easier to track your workout goals.
Top 9 Best Fitness Trackers For Runners 2023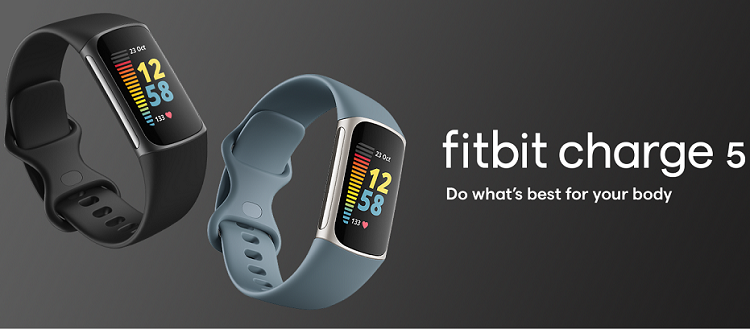 Specification:
Dimension: 1.45 x 0.9 x 0.44 in
Weight: 1.06 Ounces
OS: Fitbit OS
Battery Life: 7 Days
Color: Black
Display: 1.04 in
Waterproof: 50 meters
Compatibility: Android 5.0, iOS
What Do We Like?
Best fitness and activity tracker
Swim and sleep tracking
Text messages, calls, and secured payment system
7 Days battery life
Water resistance ability up to 50 meters
One of the major challenges with previous iterations of Fitbit was that you needed to have a phone to use the GPS tracker, however, the new Fitbit charge 5 corrects that. Not only does it come with standalone GPS, but it also comes with Spotify support and some extra health tools.
For strictly fitness bands, Fitbit is a very popular brand, and they are actually one of the companies that tried to popularize the product. The new version of Fitbit is far better and really amazing if you look at the stylish design.
This device comes with a heart rate monitor, sleep monitor, Spotify for streaming your favorite songs, and a robust fitness app. With over 20 exercise modes, you can track your workout in real time.
The Fitbit is quite versatile, it does also track your swimming stats apart from running, hiking, and cycling stats. Battery power would last for 7 days of normal usage, but with GPS it's going to last for 5 hours.
The Fitbit 5 is a health/fitness tracker, with some improvements with inbuilt GPS and improvements in health tracking. You can easily record your fitness-related data online, this will allow you to check your daily workout and inspire you.
Fitbit Charge 5 is the best Fitbit tracker these days with advanced Fitbit features that allow you to make purchases, send messages, and call your loved ones. If we compare it with Fitness smartwatches it is cheap and affordable and allows you more variety of features. Active Zone minutes is really an awesome feature, I like the most.
Specification:
Dimension: 1.85 x 0.71 x 0.47 in
Weight: 0.822 ounces
OS: AIOS, Android
Battery Life: 14+ Days
Color: Black
Display: 1.3 in
IP Rating: 5ATM
What Do We Like?
Fitness related features
Advanced waterproof system
Magnetic Charging
11 Sports Modes Remote Camera
Compatible with all other devices
Sleep mode, alert, and notification
Blood pressure and heart rate monitor
The Xiaomi company has a mindset that making fitness trackers it's not just about monitoring your exercise stats. It's also ensuring that your health is exactly where it needs to be when exercising and when going about your daily activities.
The Xiaomi Mi Band 5 comes with features that are constantly measuring your vitals, such as heart rate, quality of sleep, heart pressure, and more. The tracker also helps to count your steps and has activity reminders.
In addition to tracking your pulse and steps, it tracks up to 11 exercises, including running, basketball, riding, tennis, and cycling. If you want metrics such as time taken, distance covered, and calories burnt while exercising, the Xiaomi Mi Band 5 will give them to you.
Are you looking for the best one, it comes with good aesthetic properties. It looks great on the wrists, fits men and women, and can also fit into a host of other situations. The battery lasts for a long, and then it takes one or two hours to charge fully.
Xiaomi Mi Band 5 is new to the business but has tremendous growth and sales, if you want to buy a cheap tracker, it's the best choice for all of you. It is android friendly like the Android Smartwatch that allows you to monitor things easily and apps help you during the workout.
Specification:
Dimension: 264×21.4×12.3 mm
Weight: 25.3g
OS: Android
Battery Life: 4-5 Days
Display: 0.96 in IPS
IP Rating: 67
Compatibility: Android, iOS
What Do We Like?
Heart rate monitor
Blood pressure monitor
Easy smartphone notification
Remote photo
Sedentary Reminder
Charge anywhere
Great fitness trackers don't have to be expensive, and Morepro fitness comes at a very affordable price. This, however, doesn't take away anything from its awesomeness. So, here, we are looking at a waterproof fitness tracker, not only can you use it in the shower, but you can also use it for swimming.
Although it's not equipped to track your swimming states, it can do many other things though, for example, it features a heart rate monitor, and also a blood pressure monitor, and then a sleep monitor.
For exercises, it features a pedometer, a calorie counter, and then of course distance covered and time is taken to cover the distance. The heart rate monitor and blood pressure monitor are automatic. To get your full stats, you'd need an app.
This fitness bracelet is very easy to use, the battery power also lasts 7 days on normal usage, however on heavy usage we're looking at five days. Morepro fitness tracker is compatible with both your Android and iOS devices. However, it doesn't work with windows and some Samsung models.
When we talk about the MorePro Fitness Tracker, it is the smartest fitness tracker with a heart rate monitor and blood pressure monitor with a list of enormous features that will surely attract your attention.
Specification:
Dimension: 1.18×3.94×8.94 in
Weight: 0.71 Ounces
OS: Fitbit OS
Battery Life: 5 Days
Display: 1 in
IP Rating: 68
Compatibility: Android, iOS
What Do We Like?
Sleep and activity tracking
Call, text, and calendar alerts
Swimproof up to 50 meters
24/7 heart rate tracking
15+ goal-based exercise modes
Real-time pace and distance with phone GPS
This is in a way a kind of replacement for the Fitbit Alta and Fitbit Flex, which are no longer made. It's like the lower-end offering from the fitness band maker, Fitbit. The Fitbit Inspire comes in slender and portable.
It lacks some of the health features which are on the Fitbit Charge 4. For example, it lacks heart rate sensors, doesn't come with an inbuilt GPS and of course, the screen is not colored. That's not to say there's nothing good about this fitness band.
The band comes with the option of leather, apart from the silicon strap which it comes with. Here's what Fitbit can do. You can track all-day activity, steps, distance, active minutes, and calories burned. Of course, your sleep is automatically tracked and then you can set alarms if you like.
With the smart track, you can also record your workouts, from swimming to bike rides, walks, and runs. The Fitbit Inspire is a basic tracker, comfortable, and beautiful. However it might be considered too expensive for a basic tracker, there are cheaper ones coming from China.
A pure gift for all those who are searching for the best fitness tracker especially women because it's sleek design is pleasing and attractive that looks awesome.
Specification:
Dimension: 3.54 x 1.57 x 9.06 in
Weight: 0.42 ounces
OS: Amazfit OS
Battery Life: 14 Days
Display: 1.1 in
water-resistance grade: 5ATM
What Do We Like?
11 built-in sports modes
Heart rate and sleep tracker
Blood Oxygen Saturation Monitor
15 Days Battery life
Amazfit Band 5 is another addition for Amazfit, a china company that manufactures some of the finest and most sleek fitness trackers that comes in different colors.
If you want to work out more, you may want to wear a fitness tracker like the Amazfit Band 5. There are several things that make it so unique. First of all, it lets you speak to Alexa. You can ask Alexa questions about the weather and news, turn on lights and appliances and adjust your temperature.
The Amazfit Band 5 is an excellent fitness tracker that you should try. This smart band can help you to be fit. You can also use it to monitor your blood pressure. It can measure your heart rate and record it for you.
When trying to lose weight, you can use this device to monitor your exercise. You can also record your daily activities in your calendar. You can take note of your food intake, your sleep duration, the number of steps you take, and the time you spend walking.
The band is really good for swimming and underwater activities, you can go 50 meters beneath the ocean or pool, it has a battery life of more than 14 days, what else do you need, that is too much for a fitness tracker.
This tracker is the best fitness tracker under 50 dollars but provides superb performance with so many new features, amazingly it is compatible with android and iOs, how cool is this, I like this awesome fitness tracker.
Specification:
Dimension: 0.41×0.71×1.75 in
Weight: 1.44 Ounces
OS: Android
Battery Life: 20 Days
Display: 1 in
IP Rating: 68
Compatibility: Android, iOS
What Do We Like?
Fitness tracker with GPS
Awesome sleep mode
Install favorite apps
50 meters of water resistance
30 amazing sports features
Do you like premium-looking devices or you are not a fan of having to constantly charge your wearables, then you'd like the Withings Pulse HR. It looks like a high-end fitness tracker.
However, with its great looks, it lacks certain functionality, which would have taken it to the top echelon of fitness trackers like the Fitbit Charge 4. It lacks a standalone GPS, however, you can still access the function through another connected device.
It has a heart rate monitor and can track loads of workout styles. We like the fact that it is water-resistant up to 50 meters, and its battery can last for 20 days. Now, this is the highlight of this device, there are not many American products that last this long. This is usually the Forte of Chinese products.
The Withings Pulse HR though is made by a French company. The Withings is easy to use, it's versatile and it appears sturdy. Withings Pulse HR is a smart tracker that comes with features you would definitely love to have, it has advanced GPS, sports mode, and a heart rate monitor. What I like is the price, this is a fitness tracker under 100 dollars but has almost every fitness feature.
Specification:
Dimension: 260x20x12 mm
Weight: 0.18 Pounds
OS: Android
Battery Life: 10 Days
Display: 0.96 in
IP Rating: 68
Compatibility: Android, iOS
Connectivity: BT 4.2, GPS, NFC, WiFi
What Do We Like?
11 smart sports modes
Activity tracker
IP68 waterproof
Pedometer Alarm Clock
30-45 days standby battery time
K-berho is the maker of this fitness tracker. Not only has this tracker been made to track your physical activities, but it can also track your vitals. It can track your heart rate (continuous and natural heart rate) and all you need to do is wear the tracker on your wrist, this is done automatically and can be done 24/7.
If you want to get the details, all you need to do is get it on your phone. With this smart tracker, you can easily monitor your heart rate all day. You can, of course, track your steps, calories burnt, distance covered, and more.
It also features different modes for tracking different kinds of sports and exercises. It can track running, cycling, and more. To be able to use this device properly, you'd need an app. You'd also need to sync with your phone so that you can receive notifications from your phone.
Therefore you'd be able to use your phone's GPS tracker. This fitness tracker is slim and lightweight, it possesses long battery life and also has a fairly accurate sleep tracker. On the app, you can get all the details of whatever is being tracked, whether health or otherwise.
Usually, trackers are not expensive except Fitbit trackers which are right on the top in the industry, choosing the right fitness tracker becomes difficult, We suggest you to buy K-berho Tracker which is under 50 dollars and have a water resistance feature.

Specification:
Dimension: 1.63×4.04×8.9 in
Weight: 7.2 Ounces
OS: Fitbit OS
Battery Life: 7 Days
Display: 1 in
IP Rating: 68
Compatibility: Android 7+, iOS 11+
What Do We Like?
Advanced 24/7 heart rate monitor
Exercise modes of more than 15
Aerospace grade aluminum
Deep and REM sleep stages
50 meters waterproof
Fitbit Charge 3 was most likely the best Fitbit in the market for pure fitness, until the coming of the Charge 4. This doesn't make the Charge 3 outdated or anything, but one thing is for sure, you can enjoy its beautiful features for cheaper.
First is the battery, it would last one week on a single charge. With this watch, you get a heart rate monitor, sleep tracking, SpO2 for oxygen levels, and even phone notifications. Fitbit watches are water-resistant up to 50 meters. As per the design, this Fitbit is thinner than its predecessor, Charge 2. It also comes in with a larger screen, so more stats can fit in there.
It's a full touch screen device with no buttons, except for one which will be used to wake the device or go back. Of course, this device can track metrics for a variety of exercises including swimming and yoga. It's compatible with both ios and Android devices.
The fact that it doesn't come with a standalone GPS is quite an issue, it also doesn't have any way for you to play music. Anyway, these features were corrected in Charge 4. Nevertheless, this is still a great fitness band and it can do way more than basic activity tracking.
Fitbit offers the best fitness smartwatches and fitness trackers but I would suggest you to check out the list of top fitness trackers because they are cheap and keep you alert about your health and fitness, we must be more conscious during this pandemic.
Specification:
Dimension: 264x21x12 mm
Weight: 0.84 oz
OS: Android
Battery Life: 5-10 Days
Display: 0.96 in
IP Rating: 67
Compatibility: Android 4.4+, iOS 7.1+
What Do We Like?
Call, Alarm, SNS, SMS and Sedentary Alert
Remote camera shooting
Wrist sense
Wireless 4.0+ Transmission
5 to 10 days battery life
It's great to be able to have the motivation to stay healthy, the Garmin vivosmart 4 fitness tracker is one of such motivation. It can help you track your progress in fitness or also in maintaining it. This tracker comes in looking very sleek and it comes in various colors depending on what you like.
You have the all-day activity tracker, it's able to record steps taken, calories burned, distance covered, active time, sleep status, and more, these stats can be viewed in the accompanying app. Other things that can be measured include heart rate and sleep monitoring and they can be measured manually or automatically and in real-time too.
You can connect the device to your phone GPS, and with this, you can get your pace and distance covered. Garmin vivosmart 4 fitness tracker is a very affordable way to track your health and fitness progress with an amazing 7 days battery life.
FAQs
What is a Fitness Tracker?
A fitness tracker, otherwise known as an activity tracker, is a device that allows users to monitor and log a variety of health metrics. These trackers measure the number of steps you take each day, the distance you travel, the calories you burn, how long and for how many minutes you spend sleeping, and more.
There are plenty of different types of activity trackers to choose from. Some are designed to look like jewelry, while others resemble a watch. If you're interested in having one, make sure to do some research on the type that best suits your needs. A number of them will allow you to store your health information on your smartphone or tablet.
Which is the Best Fitness Tracker?
Well, there are different fitness trackers you can buy these days but you will like the Fitbit fitness tracker that comes with 99.6% accuracy of walking outside, overall accuracy remains more than 96.5%, however, it can go down if you check it on a hill station or any inclined or declined surface.
What does Fitness Tracker do?
Fitness trackers or Activity trackers help you to stay fit and healthy. These gadgets can keep a record of your activities. You will be able to know how far you walk, what kinds of exercises you did, and how long you did each kind of exercise. In addition, you can use this gadget to measure the number of calories you burn, and monitor your heartbeat.
Is it worth getting a fitness tracker?
Yes, Fitness Tracker is cheap and provides several fitness-related features, you can use a fitness tracker to increase the number of steps you take each day. It will also help you to improve your physical condition.
The health and fitness tracker will motivate you to achieve a goal you've set for yourself. By wearing the fitness tracker, you will get an indication of how much you move, and this may inspire you to increase the number of steps you take each day.
What is the Difference between a Fitness Tracker and Smartwatch?
A fitness tracker is used to monitor your daily activities. These days, people wear a fitness tracker not only to track their health but also to motivate themselves to perform certain exercises.
A smartwatch also provides you the similar kind of features but you can connect your smartwatch to a mobile phone. It allows you to make and receive calls, check emails, and other notifications. It can also display your favorite news, sports scores, and weather.