Is it true that you love all things beauty? There is a way to make the most out of what you love – earn extra money with your knowledge in the beauty industry through different side hustles.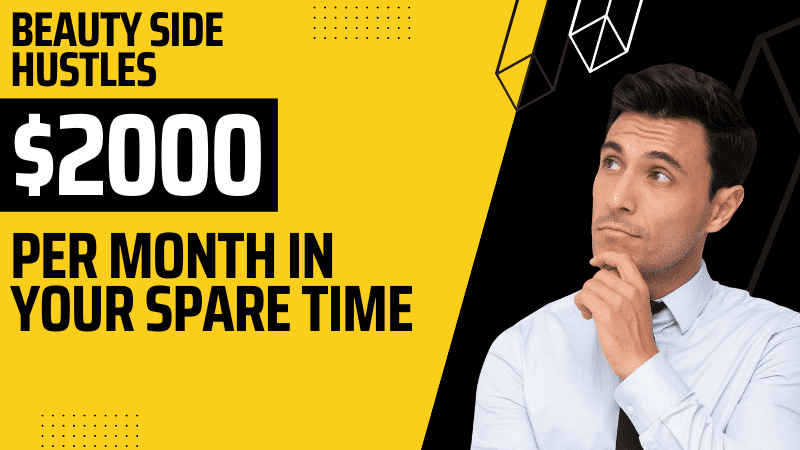 Many people scroll through social media to get inspirations and ideas to help them look amazing. I will show you the different ways to try today to be that person.
12 Beauty Side Hustles to Make 2000 dollars per Month in Your Spare Time
Make Beauty Baskets for Etsy:
More than $10 billion in sales went through the website in 2020. Some popular products are beauty gifts and crafts like the eco-friendly spa gift box. You could make and sell gift baskets for beauty.
For each item in your store, you will be charged a listing fee of $0.20and 5% transaction fee on the selling price.
Beauty Shopify Store:
For just $29 a month, anyone can set up a Shopify store and sell stuff. It is not necessary to rent an expensive property on the ground. It's easy to sell your products or dropship products from your Shopify store. When someone buys something from your store, the order gets triggered and sent to the customer, so list the products you want to sell. The business of natural, organic beauty products is large.
There are a lot of beauty products that have harmful chemicals in them. If you know a beauty product that is good for the skin and has decent branding, you could get it for $2,000 per month.
Beauty YouTube Channel:
There are millions of followers for the most notable beauty video creators, who most likely have lucrative deals with beauty brands with this many fans.
Even if you have a small number of followers, you can still make money. Even if you have a few thousand, you can still make money as an affiliate for the products you use.
What is the strength of your appearance? Are you good at styling, putting on makeup, or making your skin glowing? If you are good at it, you could help others get the same results.
You can make more money with advertisements and partnerships if you have enough followers.
BeautyCounter Consultant:
Anyone can join BeautyCounter and make money selling products. As a Beautycounter consultant, you can work as little or as much as you want. However, to start, you need to invest $50 in a digital kit that includes a website, selling tools, and a training platform.
You can begin to promote online and schedule one-on-one consultations with people you think are interested. You will make 34% on all sales credited to you.
Start a Beauty Blog:
Are you still searching for beauty side hustles? If you want to share your knowledge with the world, you should start a blog. Once you get enough readers, you can create a full-time career in publishing. Then, for only a few dollars a month, you can start your own blog on Siteground.
If you aren't ready to invest yet, you can start for free with platforms such as Medium. To become known for the beauty niche, you should write content around it. You will be competing with a lot more people if you have a broad scope.
There are ideas for organic products, makeup, and skincare for those over the 40s. Budget-friendly makeup choices, Celebrity inspired makeup ideas, Morning and evening skincare routines, and Top perfume and makeup ideas for moms are some of the famous beauty ideas on the internet.
Teach Beauty Classes on Udemy:
Many people don't know how to put on makeup and create up-styles. You can teach others how to do these things with your classes on Udemy. It's easy to make money with the help of Udemy. Depending on the content's depth, most classes sell for between $10 and $199.
Set your primary objective for the class, write an engaging script divided into short videos, find a quiet space with attractive background for filming, and ensure your lighting, sound, and video quality are high. Once you're good with these, you can start promoting your class.
Affiliate for Beauty Products:
You can earn money as a beauty affiliate if you work in the beauty industry and already have a social media following. Billions of dollars worth of beauty products are purchased online each year. You will make at least $2,000 or more a month if you get a small piece of that. Some affiliate programs will approve you if you have a website.
Others don't mind if you promote on YouTube or other social media accounts. When applying to an affiliate program, you will be asked how you intend to promote. Check the cookie length and payout when selecting beauty affiliate programs.
Freelance Beauty Writer:
Becoming a beauty writer is possible if you have good writing skills and knowledge of the beauty industry. Some writing jobs will ask for a bachelor's degree, but most want you to have some experience or qualification in the beauty industry.
If you have a writing portfolio, it helps build your credibility. Potential employers will know what you can do when they see this writing experience you have. If you want to get experience, apply for guest posts in popular beauty publications.
You can write for free, but you will get a link to your social media accounts which will help build your credibility. You should check out the best websites to apply for paid work after feeling confident.
Freelance Makeup Artist:
Is it possible that you can turn tired eyes into come here eyes? If you are an expert with makeup brushes, this is one of the best beauty side hustles.
People who need skilled makeup artists include brides-to-be, prom attendees, partygoers, and actors. Once you are established, you could make as much as $100 an hour. Additional services like hair styling or nail art can be offered to increase your income. You can start posting these on social media.
It is a very visual platform that is perfect for makeup artists. If you can get your first few clients, you should offer to do their makeup for free in exchange for a shout-out on social media.
Beauty Consultant:
The wealthy elite doesn't look fabulous because they're stylish. Instead, hairdressers and beauty consultants are used to doing the hard work. You can offer your services for big bucks if you excel in makeup, hair, or styling. This side hustle could lead to a full-time career once you build up the connections.
If you are a beauty consultant, you can help people choose the makeup, haircuts, clothes, and accessories that suit them and brings out their best features. Reach out to people who may need your help once you have built a social media following.
Sell Manicures and Pedicures:
Every girl is fond of having beautiful nails. However, keeping up with the trimming and painting yourself can be difficult. Selling manicures and pedicures is a big business that will only keep growing. There are other popular services such as nail art. If you enjoy making your nails, why not use the money to help others?
It is possible to set up at home or work part-time at a local nail salon. It's possible to work hours that suit you if you take on nail technicians. The prices for manicures, pedicures, and nail beauty packages range from $25 to $200.
Instagram Beauty Influencer:
One of the top beauty side hustles will lead to being a makeup artist, which is an easy progression if you are established in the industry. As a Beauty Influencer, you can grow large followers and post daily tips and inspiration for beauty. After which, you can make promotional posts for specific brands and make money from them.
Some established celebrities command tens of thousands per post. For example, the highest cost for a beauty post on the photo-sharing site is $165, 402 per post.
Conclusion on Beauty Side Hustles:
You could be looking at these beauty side hustles as a way to make extra money. But, after some time, beauty could become a full-time career.
Helping people look and feel great is a job worth doing. With so many opportunities to increase your beauty income online, making a lot of money could be easy.