With global interest rates close to zero and even negative in Europe, more people are looking at cryptocurrencies to earn higher interest.
What should happen next? In general, investors tend to fall into one of two camps, either playing the long-term game of leaving your bitcoins in your hardware wallet untouched and HODL to the moon or making quick profits by trading in the spot or derivatives markets.
The risk of trading is considerable, and it can potentially increase the value of the investment. But unfortunately, the majority of traders lose money. You can spend a lot of time staring at your computer screen, trying to process all the data, but it isn't the most effective way to make money for most retail traders who don't have experience.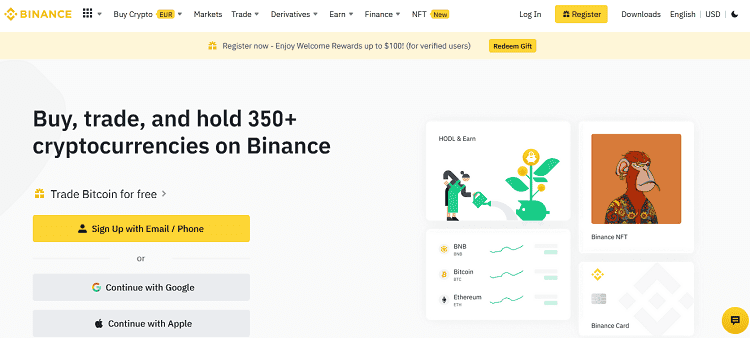 If you weren't investing, your money would be sitting there and not earning anything. Loaning your bitcoin for interest is a better way to grow your portfolio.
If you already own some cryptocurrencies, why not use them to earn some passive income? This is a great way to make money off of your assets.
7 Best Platforms To Earn Crypto Interest 2022
Check out these seven Best Platforms to earn crypto interest, though be careful about the market speculation and dips.
Binance Savings:
One of the most popular and fastest-growing scurries on the Internet is Binance. You can use it to buy, sell and trade a wide range of cryptocurrencies, both popular and unique, with very competitive fees.
The simplest way for a trader or HODLer to earn interest on their holdings is with Binance. Flexible Deposits allow you to make interest with the flexibility to withdraw your money anytime. Over time, the interest rate changes. Fixed deposits give more significant returns than flexible ones. You can not access your funds for a fixed amount of time.
Hodlnaut:
Juntao Zhu and Simon Lee are two self-proclaimed Bitcoin-maximalists who started a Singapore-based platform called Hodlnaut. The idea is to make it easy for people to earn sustainable interest rates. Once you sign up for a free account, complete the KYC, and deposit cryptocurrencies to your account, you can start earning interest. You will get the best rate with interest compounding every Monday.
Bitcoin (BTC) -at 5.33% APY
DAI – at 8.32% APY
WBTC – at 5.33% APY
UST – at 13.86% APY
Ethereum (ETH) – at 5.44% APY
USDT – at 9.41% APY
LUNA – at 6.71% APY
USDC – at 9.41% APY
YouHodler:
YouHodler is an EU and Swiss-based site that helps you grow your cryptocurrencies by just holding your coins. They pay interest on the deposits of BTC, PAXG, USDC, TUSD, USDT, and HUSD.
You can still take advantage of the high yields even if you are new to the coin. Convert your funds to any cryptocurrencies at YouHodler and start earning high-interest rates. You can earn more interest every week by doing this. So take advantage of your interest rates and make more money. The interest rates on You Hodler's feature are even higher.
BlockFi:
BlockFi is the first and only lending platform that offers a compound interest account. As a result, you can increase your holdings over time if you keep compounding the monthly interest earned.
All you need to do is create a free BlockFi account, complete the KYC process, and earn up to 5% interest annually. Unlike other platforms that pay interest in the same currency you deposit, BlockFi pays you in any supported currency you choose. Here are the supported cryptocurrencies.
PAX (PAX)
PAXG (PAXG)
GUSD (GUSD)
Bitcoin (BTC)
USDC (USDC)
Tether (USDT)
Ethereum (ETH)
Litecoin (LTC)
You can get all interest paid on your deposits of BTC, ETH, and USDC. This will allow you to accumulate your preferred cryptocurrencies without buying them.
Crypto.Com
Crypto.com is a popular cryptocurrency exchange to buy, sell, and trade crypto. A company that offers an ever-expanding service, you can also earn up to 12% of your Bitcoin and other crypto.
Midas.Investments
I use the Midas Investments platform to make money on my assets and earn up to 30% interest. If you already own some coin, you can lend it out and earn passive interest on it. It is suitable for long-term investors who want to increase their holdings without learning to trade.
The crypto loan market is very competitive and offers a wide range of interest-bearing products where you can enjoy very high yields. Midas Investments is one of the many high-interest platforms that allow you to start with no minimum deposit.
Go from there with as little as $10, $50, or $100. First, create a Midas. Investments Account, then deposit in your wallet. If you want to, you can withdraw your money whenever you please. You need to trust that they will keep your coins safe.
CoinRabbit:
To use coinRabbit, it's not required to have KYC registration and an account. It is great for people who want to earn interest in their cryptocurrencies. Deposit as low as $100, and you can earn up to 8% on stablecoins in less than 5 minutes. You can see how much you will make before you start.
Transfer your stablecoins to the address and earn passive income daily if you are satisfied with the earnings. You can either increase or decrease your deposit.
Three stable coins are supported by CoinRabbit: USDC, USDT, and USD. Increasing your bank deposit income can increase by converting some of your currency to stablecoins.
Conclusion:
Rather than letting your coins sit in cold storage, it is now possible to lend them for profits. If you want to borrow money with bitcoin, you can do it on the lending sites. It is fast, easy, and secure.
It is only for now. I will update this post with the latest information, so keep coming back to discover more. I hope the list helps you find the best, low-risk, stable investment options for your holdings.
What do you make of it? Is it possible that you would lend out your Cryptocurrencies? Why isn't it? If this post was of help to you, please share it on social media!